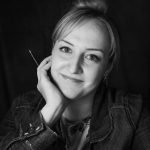 I'm a portrait and lifestyle photographer near Barrington, Illinois.
I've always been an artist, but I really got into photography when my kids were born. Time was passing so quickly, and soon all I had left of their baby years were my photos. Since then I've been passionate about documenting our lives together, and helping other families document their own cherished memories.
I believe the best photos reveal something about a person, or remind you of your favorite memories as a family. I don't use cookie cutter props- our session begins with a conversation to get to know you. From there we'll choose a location and theme that reflects who you are and the things you love. Your portrait becomes a fond memory of your real life, and a snapshot of who you really are as a person or a family.
I also love to do pet portraits. Elegant or silly, posed or candid, I love getting to know each animal and making one of a kind art portraits for the people who love them. When needed, I use my own hand painted backdrops, which gives each photo a personal artistic touch.
You can email me at liz@kosmicstudio.org or through the contact form below to request information about booking a session. Let's make some memories!